Brexit has added to the difficulties facing British companies in 2021. And 2022 seems unlikely to be better, with the UK about to introduce full Border Controls for EU imports.
Opinion over Brexit has shifted sharply over the past year as the reality of Brexit has become clearer. Fewer than 1 in 5 of those who voted for Brexit now think that it has gone as well as they had expected. And smaller firms exporting to the EU have been hit by a double whammy of increased paperwork and new Customs duties. The Cheshire Cheese Company says it has lost its entire "wholesale and retail business" with the EU27 in 2021, worth £270k. And 2022 is set to see the problems ramping up: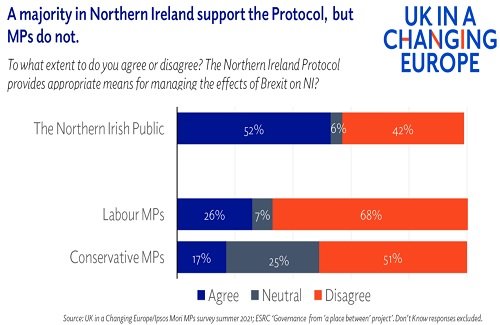 On the positive side, however, it does seem that Lord Frost's resignation may lead to a softening of tensions over the N Ireland Protocol. As the UK in a Changing Europe poll shows:
A majority of people in N Ireland itself now think the Protocol is a good thing on balance.
A majority also think it is having a positive impact on the local economy, which has avoided the shortages seen in Britain.
Interestingly, too, the same poll shows 87% of the population distrust the UK government – double the level of distrust for the EU Commission.
Trade data also shows that businesses are proving very flexible in taking advantage of N Ireland's unique position within both the UK and EU Single Markets.
32 new ferry services have started up between Ireland and other parts of the EU during the year, as companies sought to avoid the Brexit-related increases in paperwork and cost for the traditional routes via Britain. This trade has soared 50% over the past 6 months. As the Belfast Telegraph reports:
"There has been a 15% uplift in traffic in Belfast, 18% in Larne and 20% at Warrenpoint, which have benefited as demand for ferry services to Wales and Liverpool has declined".

How can Ready for Brexit help you?
We can help you redesign your business model and survive Brexit.
Our consulting team have personal experience of operating before the Single Market and Customs Union began.
We know the issues and can help you solve your problems.
We can help with the key issues: