Your business will need to modify many procedures and completely change some practices to prepare for Brexit. We have therefore designed a comprehensive portfolio of tools, Brexlists, to ensure that you can take a rigorous and structured approach to your preparations.
There are 3 Brexlists to suit the needs of different businesses. The Brexlist will enable you to look at your future business needs and structures from different angles:
The Executive Summary Brexlist Brexit business checklist, as its name implies, highlights the key issues
The Business Functions Brexlist Brexit business checklist maps onto the key business functions in a company
The Directory Brexlist Brexit business checklist maps onto the topic headings in our Brexit Directory
The idea is to help you identify the hard questions and commit the resources required to ensure that you survive and prosper in the post-Brexit world.
The Ready for Brexit website is continually updated in line with developments in the Brexit negotiations. We have designed the Brexlist Brexit business checklists on a similar basis: to ensure your planning process is up-to-the-minute.
Brexit is likely to be the greatest challenge that most businesses have ever faced. We believe you will find our Brexlists an invaluable tool – helping you to prepare for whatever happens after March 29. Download your Brexlists today!!
Don't forget, a subscription to Ready for Brexit means that you and your colleagues can use the Brexlist Brexit business checklist as often as you need over the next 12 months. This includes any updates and further Brexlists for specialist business functions.
Join now >
---
More Brexit business tools:
Brexsure Brexit audit tool
No Deal Brexit Action Plan
Brexplainer tutorials – No Deal Brexit and WTO Rules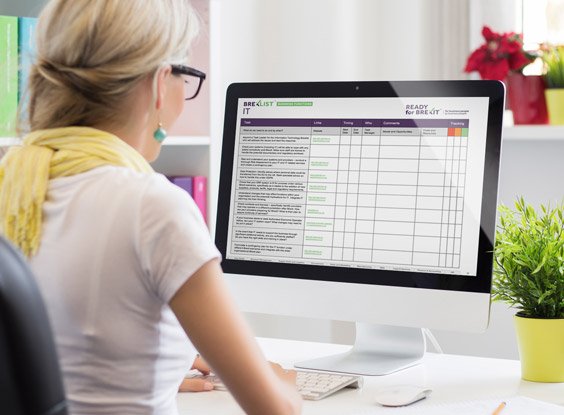 How to use the Brexlist Brexit business checklists
The Brexlist Brexit business checklist helps you plan for Brexit.
They give you key steps that you might want to take.
The Brexlist Brexit business checklist links to relevant information.
Starting now will help you meet the challenges and opportunities that Brexit brings.
Set Start and End dates for each section.
Note Who is responsible for the action.
Add comments about Key Issues and Opportunities as they occur to you.
Add thoughts about possible Costs and Resource needs.