Ready for Brexit is independent and objective. It aims to help businesses and organisations manage the challenges and opportunities that Brexit brings.
See member benefits  〉
Ready for Brexit press coverage
Wired:
'It's impossible to prepare for Brexit, but here's how you can try' with comment by Ready for Brexit editor, Anna Tobin
7 October 2019

Manufacturing Today Europe:
Take Control. Ready for Brexit chairman, Paul Hodges, believes it is time for businesses to start their own plans for how to deal with Brexit
August 2019  |  Download pdf (306KB)
BBC News Live Reporting:
'Brexit Tariffs vs other news' comment by Ready for Brexit chairman, Paul Hodges
13 March 2019  |  BBC News Live Reporting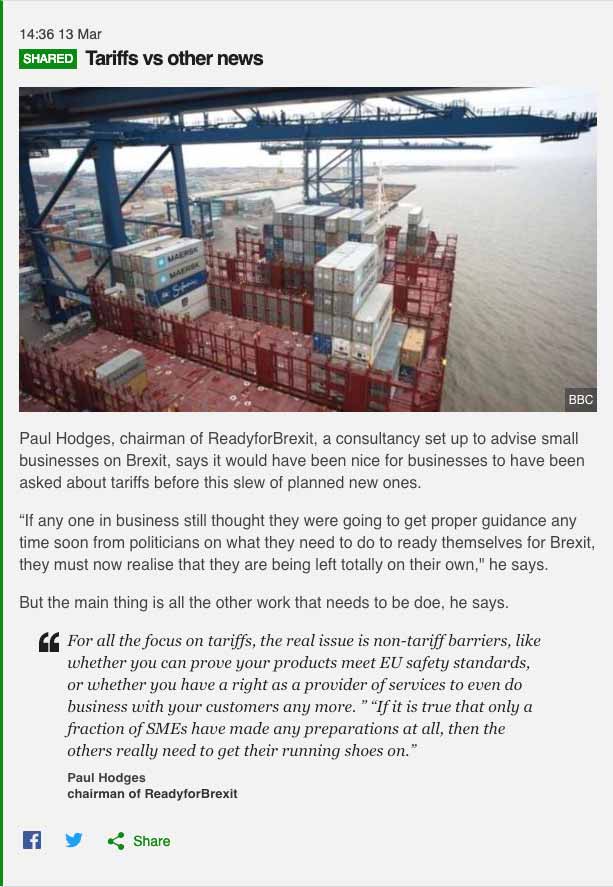 Channel 4 News:
"What the government has told small businesses today is that the future will not be decided before Christmas," Paul Hodges of Ready For Brexit tells Channel 4 News
10 December 2018, 7pm
BBC News At One:
"The default position is that we leave without a Brexit deal on 29 March", Paul Hodges of Ready For Brexit tells BBC News
15 November 2018
Ready for Brexit press releases
About Ready for Brexit
Ready for Brexit was set up by a group of experienced business professionals soon after the referendum. They realised that whatever form it took Brexit was not going to be easy for any business.
Two years in the making, Ready for Brexit has been carefully designed to guide businesses through Brexit.
Politically neutral, we aim to help businesses negotiate the obstacles of Brexit and make the most of the opportunities that Brexit offers. Our focus is primarily on SMEs, as we know that the large corporations have the staff and the funds to set up whole departments dedicated to solving the issues raised by Brexit.