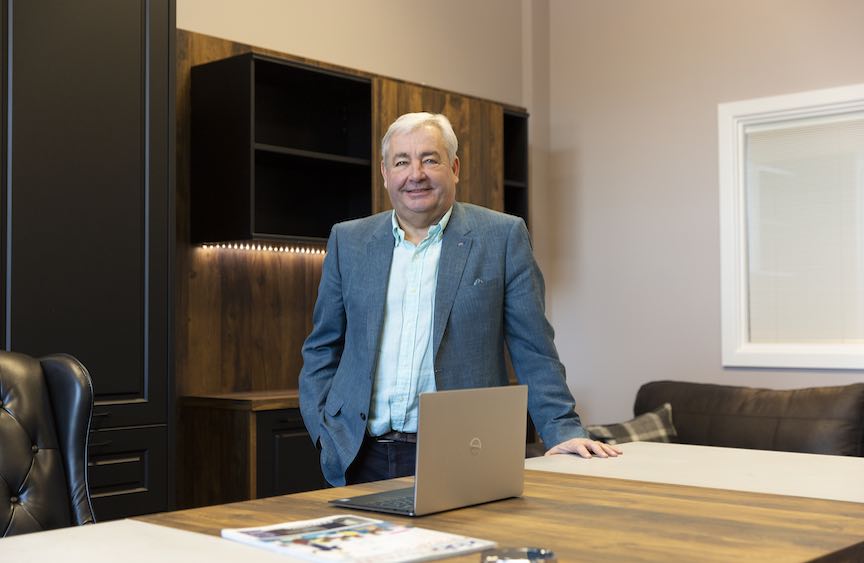 Wayne Dance, managing director of InHouse
Wayne Dance, managing director of bedroom, bathroom and kitchen supplier InHouse says that Brexit is a challenge and that to successfully surmount it you have to view it as an opportunity for growth
Can you explain what InHouse does?
We act as a sole agent for leading European kitchen, bedroom and bathroom manufacturers, supporting a network of over 500 independent UK retailers. It's over 15 years since I introduced the German kitchen brand Schüller to the UK and since then, we have successfully established multiple European brands in the market. We continue to expand globally, working with retailers and hotel chains in the Caribbean Islands of St Lucia, Antigua, Turks and Caicos, Dominica and Barbados, as well as the United Arab Emirates, Florida and Spain.
What preparations has your business made for Brexit? 
We decided to take the bull by the horns, embarking on a rapid construction of a 650 sqm flagship showroom. At over £2.2 million, it was a big investment but I firmly believe that the way to face market insecurity is head on. The industry is understandably twitchy, but the 2008 recession taught me the value of vision. Having a long-term strategy will see us through any bumps in the road. Sitting it out to see the real impact of Brexit is reactionary and that's not how I work.
The constant noise of Brexit actually focussed my mind and there is nothing I like more than a challenge. For me, unstable market conditions present as many opportunities as they do challenges. The UK is an important market for our European brands, with continued success here in the interest of all parties. We work exceptionally hard to build business growth for suppliers, and strong, personal relationships.  As a result, we are able to pre-empt potential issues with a pragmatic and collaborative approach. In this current period of uncertainty, our German supplier is providing a four-week delivery time for products entering the UK to allow for any customs issues. We also have an agreement for them to cover the rising cost of transport until there is a satisfactory conclusion.
What do you see as the main problems your business will face after Brexit?
The biggest challenge is making sure we have everything in place to support our network of retailers. It's a simple business equation –  with no retailers, we have no business. There is a lot of scaremongering in the press right now, so to keep addressing concerns is high on our agenda. Retailing can be lonely and demoralising, there is nothing quite like Brexit to add a little sweat to the brow. Our business model is to supply the very best European products at affordable price points, with flexible brands that negate the need for multiple suppliers. Brand confidence and strong relationships mean we can focus efforts where they are needed most – supporting retailers to succeed.
How do you plan to solve these issues?
We are already doing it. Our purpose-built premises mitigate against any potential Brexit issues, and the new headquarters acts as an extended showroom for our UK dealers. With rising rates and Brexit insecurity, now may not be the right time for the independent retailer to invest in larger premises, so we did it for them. It's a creative approach, but it allows us to address another key issue, keeping retailers and fitters up to speed with the latest innovation and installation training. It's a fair assumption that the post-Brexit period will result in a rise in travel costs, which, of course, will have a knock-on effect for anyone trading and training with European manufacturers. Time alone can have a significant impact on expenditure, in turn restricting the number of staff sent abroad.
To reduce these costs, we included an onsite competence centre, enabling free UK-based training for the latest product innovations. The final Brexit jigsaw piece is warehouse facilities. With kitchens made to individual order, stockpiling isn't in our DNA, but we will be maintaining a supply of standard fittings and products. While issues iron themselves out, it makes sense to reduce any potential clog factors in supply chains.
What external support is helping you to solve the issues that Brexit has thrown up?
The Euro rate remains in the lap of the Gods, but we sought external support to create some financial autonomy for retailers. By negotiating preferential rates with a select foreign exchange company, retailers make payments direct to Germany. As a result, there are no VAT payments due and no currency surcharges when the pound struggles against the Euro. Retailers can take advantage when the exchange rate is good and alter exchange conversion to suit the rate at the point of deal closure.
We also employ a marketing and PR firm to get the message out there. We fund free, customisable and branded marketing material, increasing local referral rates, but where we really pulled the hat out of the bag is with the national press. With regular coverage in both consumer and trade publications, retailers get the brand exposure that would only be available to a global franchise. It's an innovative approach and an industry first, and I am proud of it. Communication is key for both a pre and post-Brexit economy.
What opportunities do you think Brexit will present for your business?
Consumers don't stop buying kitchens and bathrooms, but they become very careful about how they invest. While the property market falters and purse strings become a little more controlled, consumers will seek to enhance their current property and what they will look for is value and quality. Even with the stalling property market, we are already 11% up on pipeline orders. When I introduced Schüller to the UK in early 2003, there was a glaring gap in the market for high quality, flexible and affordable kitchens. Even during a major recession, we went from strength to strength. Brexit will be no different, cheap brands will struggle and price-conscious Brits will baulk at inflated prices. What I have learned is that success starts from a state of mind. A fearful approach to Brexit can create a self-fulfilling prophecy.
I ask every retailer and staff member to tell me what they see when they read  OPPORTUNITYISNOWHERE.  I see opportunity is now here, whilst others may see opportunity is no where. Brexit is simply another opportunity.