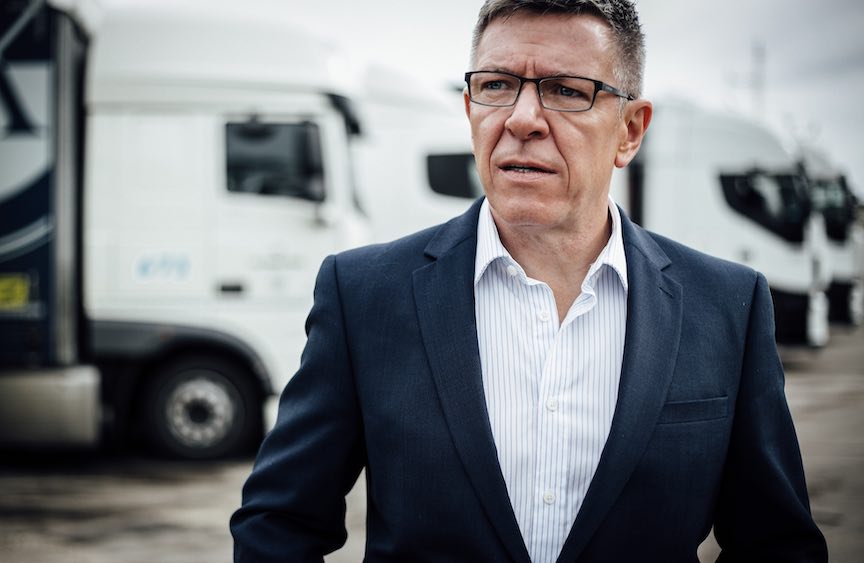 Robert Hardy, is director of food distributor Oakland International, and through Oakland Invicta operates an HACCP check-point in Kent. He's also a certified Customs specialist and an advisor to The Institute for Government on matters relating to customs and Brexit. Here he explains why he thinks that exports will be the trigger for the major Brexit disruption
What does Oakland International focus on?
We are a food distribution business. We receive chilled, frozen and ambient foods from all over the UK and Europe. It comes into us as stock and then we pick the orders as the orders come through from the retailers and dispatch those orders on a day one to day two basis. That's it in a nutshell, but that's a million cases a week.
Have you seen any impact from Brexit as yet?
Not yet. We are getting inquiries about stockpiling now, but we won't be stockpiling until the 15th March, because we work in chilled food. All people can do now is reserve space, because it's a constant rollover of food coming in and food going out. That's how we operate.
What plans are you making for when Brexit happens?
Our planning is about putting Customs simplifications in place. In the run-up to Brexit, people will increase their stockholding, but only by about two weeks if the product will allow it. This idea that you switch your supplier to a UK supplier is not really the model that works with many people. I happen to know from my side that if there is a no-deal crash out, that there shouldn't be any initial delays on imports, but I am very worried that there will be delays on the subsequent export of the vehicle and, therefore, that may slow down the second and subsequent imports.
Why do you see exports being more problematic than imports?
There is a school of thought that imports will somehow be massively disrupted and I ask why? What is going to happen? There is paperwork, yes but it's quite simple and the checks aren't going to happen. The people who are saying this aren't the people who do the checks. They don't know any better. DEFRA is not intending to check food from Europe full stop, so the truck that comes into Dover will drive straight out of Dover, like it does today.
I don't think that there will be tariffs. We haven't set the tariffs yet. I don't think that the Government will set any tariffs. Why would they? If you go to zero tariffs that could possibly kill off a lot of industry in the UK, particularly farming because products are coming in from everywhere at zero tariffs, but you can control that by putting a quota on how much can come in. Or, you can put in non-tariff barriers, which in Government terms, ends up in Common Rule Book. In Common Rule Book if we say from day one you must conform to this, this and this, you can cut out a lot of the products that you are worried about being flooded with. It's done not by tariffs, but by some other rule.
At the moment, product that comes in from outside the EU comes in with paperwork and it has to, therefore, be Customs cleared. But Customs clearance is almost like a voluntary process that is secured by the paperwork that it came across with. If you go to Felixstowe or Liverpool or Southampton or London Gateway what you will see is a port operating in a Customs clearance environment. All very secure, all gated. At Dover, you have none of that. Everything that drives in, we just assume it's okay. Even stuff from non-EU countries arrives at the port of Dover and drives straight out again. It doesn't stop in the port or at Eurotunnel. It's been cleared in Europe and post-Brexit if it's come from Turkey and its destined for the UK, they won't take their eye off it, they will still do the check-in at the Bulgarian border and, therefore, when it arrives with us, we know it's alright. It still requires Customs clearance in the UK but that doesn't have to happen at the port.
How will the Customs clearance run?
Let's say I have a vehicle coming up towards Calais, a simplified Customs declaration will be done. I know that you can do a Customs entry in 25 seconds. I fire that Customs declaration over to Calais. When the vehicle gets to Calais that Customs declaration goes live because the vehicle is there and that vehicle will be cleared before it leaves Calais because I've done a simplified declaration, backed up by my CFSP [Customs Freight Simplified Procedures] approval. That vehicle then arrives into Dover, drives straight through and delivers exactly like it does today and I must do the final Customs declaration by the fourth working day of the following month, a bit like a VAT return and that's it. That is Brexit. That will make the imports very smooth. But the exports will be awful.
Why do see the problems being on the export side?
Well, we're motivated to make that process simple and the French and the EU are not motivated to. Why would the EU make our exports easy? That's the price we pay. Our exports now have to go through treacle to get to Calais. The real problems begin when you've got an imbalance in the flow. We have already got an imbalance – of the vehicles that come in through Dover and Eurotunnel, 2.2 million vehicles come in and 2.2 million vehicles go out at the moment, of the 2.2 million that go out 30% of them are empty. You've only got to look at the balance of trade figures to see why, there isn't enough stuff to go back.
If the flow in is five times faster than the flow out it breaks. That's the point I keep making. I am saying to people look we should stockpile, but not because I see problems with imports, but because I see problems with exports. Bear in mind, 90% of the trucks crossing the Channel are foreign and it currently takes under two days to get in and out of the UK, if that goes to four and a half days they won't come back in. A haulier will always look for the path of least resistance and most revenue. If they do come they will want another five or six hundred pounds.
Your importer is sitting there saying, well that doesn't affect me. It will affect you, you rely on that truck coming in. The domino effect of that congestion will affect UK importers.
If we have to crash out on the 29 March, that impact on the export flow won't be felt until week two and in that first week the no-deal supporters will be waxing lyrical that this is all a storm in a teacup, but by week two the perfect storm will hit and you won't get that flow of lorries in. I know this is a perverse view, but I am part of a team that is putting together the import flows. I know the process and I know what is being planned.
I don't think that the French will be particularly awkward, it's just for anything leaving the UK, they are the Bulgarian border as we see it today and it takes a long time to get through the Bulgarian border because it's the first European touch point for non-EU goods. Calais will become that. Trucks can't be allowed into the EU unless they've been checked on entry.