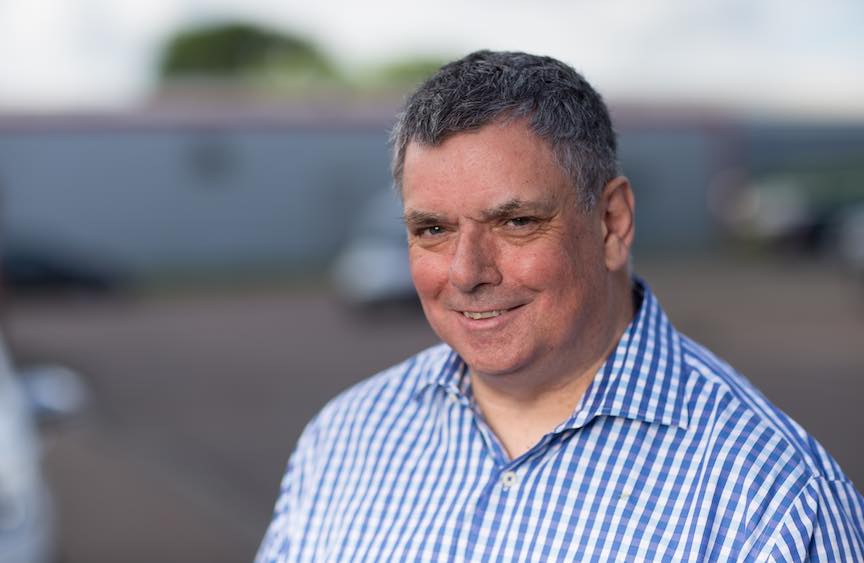 James Ecclestone, founder of Essex-based confectioners the
Grown Up Chocolate Company 
 says he's always been proud to call himself a British manufacturer, but he's seriously considering moving to Slovakia as a result of Brexit
How soon after the referendum did you realise that Brexit would impact on your business?
We have 37 employees and straight after the referendum I lost two of my best foreign staff to Germany, because they were looking for certainty. Since then I've probably had to replace half my workforce as a result of Brexit. My foreign employees are not interested in people saying 'it will be alright.' They want a document stamped by the Home Office that says you have the right to remain. To make up for staff losses, I'm now having to employ a lot of agency staff and it's costing me an awful lot of money, plus they're often not nearly as reliable, motivated or as loyal as my old workforce. It's difficult to find permanent staff now. We used to get people knocking on the door the whole time, albeit they were generally from Eastern Europe, but now we don't get anyone knocking on the door at all and we pay well over the living wage for assembly and packing work.
Has Brexit impacted your export business?
Yes. We export about 30% of what we make and our German distributor, my biggest single customer, is saying, why should I market your product when I don't have certainty of supply? It's worrying. I've also been hit by the exchange rate as all of my cocoa is quoted in dollars or euros. This has contributed to my overall costs rising by about 18% post Brexit. Not all of this is down to Brexit, I've had changes to business rates and wages as well, but a lot of it is down to Brexit and I can't pass those price rises on.
We've heard that Brexit will impact particularly on food regulations, does this concern you?
Yes. For us the regulations, the labeling, the compliance, the allergen portrayal and the manufacturing standards are key. As soon as they change something by a decimal point, etc. and we are not compliant, that will cause us more damage than any additional tariffs we may have to pay.
Do you see any opportunities from Brexit?
I hate to sound so pessimistic, but no. I don't get the idea of pushing new markets. The products that I sell are heavy. It costs about £500 to send a pallet to Australasia, £300 to North America, £120 to the EU and £55 within the UK. So, although I am exporting to America, Canada, Australia and New Zealand already, they are not key markets for me because they have to incorporate the cost of freight into the product sale price, which makes it uncompetitive.
What do you think the government could do to help steer SMEs through Brexit? 
The problem is that the ideology is getting in the way of the reality. My little company is paying a quarter of a million pounds in VAT, PAYE and National Insurance a year and it seems to be Brexit at all costs. Any inference that we should align ourselves with the EU in terms of regulations, which is what I would personally like a commitment on, is seen as letting down the people who voted to leave. The one thing that I would ask for would be complete compliance with EU packaging and food manufacturing standards.
Have you taken any steps to ready yourself for a 'No Deal' Brexit?
Yes. I've had a serious look at relocating to Slovakia, because we  export so much to the EU. Then we could invoice in euros and manufacture in euros and in Slovakia wage rates and rentals are much cheaper too, I've been over there on a site visit. We're almost at capacity at our Harlow site so we have to move anyway. Our investment in the next stage is worth £2 million. That's a big commitment for a company my size to invest £2 million when you don't know where you're going to be in five years' time.
I've also had a conversation with the Welsh inward investment people who have informally agreed to fund the whole project if we move to Bridgend, but again without knowing how it's going to be pan out it could be foolish to go and move there only to find that the 30% of turnover which comes from the EU no longer exists or is unviable.
It makes me sad. I'm so proud to be a UK manufacturer, I might be a tiddler, but when those pallets go off to foreign countries I get quite emotional. It will be annoying for me to have to relocate to Slovakia and then import back into the UK, but at the end of the day, I will do whatever I have to do to ensure that the business survives.