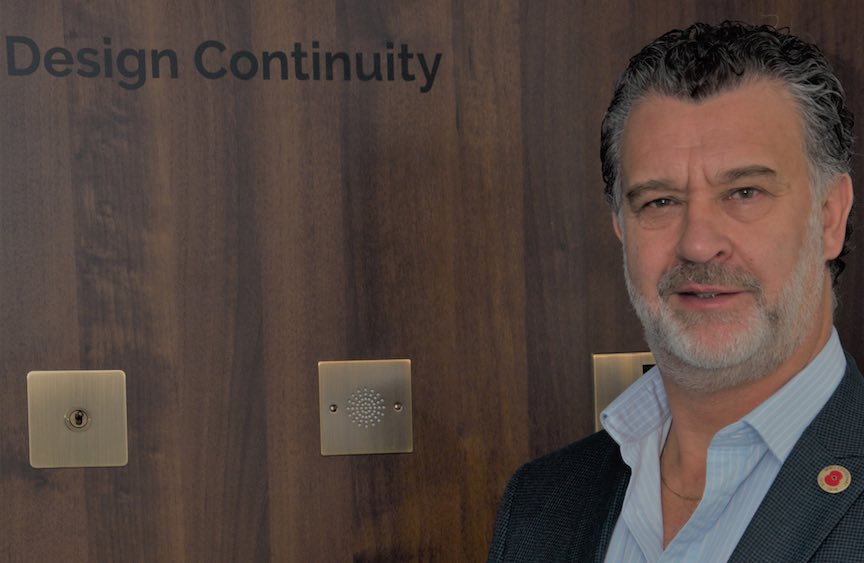 Gary Stevens, managing director of electrical wiring accessories manufacturer Focus SB Ltd says he has never found EU countries easy to trade with and, in comparison, his recent entry into the Chinese market has been surprisingly productive
How much business do you do with EU Member States?
We do very little. Most of our trade is UK-based. The products that we manufacture are switches and sockets in lots of different finishes. Our forte is in offering lots of different finishes and being able to do specials, which is a huge benefit to the architects and interior designers that we deal with on a daily basis. Despite what everyone says about the Common Market and no barriers, etc., in our business, we find that it is so difficult to sell into certain countries in Europe, such as France and Germany. They put lots of obstacles in your way to stop you trading over there.
As an example, we have been specified for all of the products for a hotel in Europe. It's a hotel group that we work with in the UK and in other parts of the world, but in Europe, the contractors are insisting that we meet certain standards and that the products fit certain back boxes. They are all things that aren't necessary, but they are putting them in the way of us getting the order. And the client is starting to think, do I need all this hassle? That's the effect that they are looking to create. We find that that's pretty common across a lot of European countries.
Do EU electrical companies find it equally as hard to sell into the UK?
No, in our industry we have companies selling into the UK from Belgium, France and Germany without any hassle at all, but if we try and sell in those countries we are faced with lots of different hurdles. When the result of the referendum came in we looked at the potential implications of it for us and couldn't find any major issues, apart from if the UK construction industry suffers as a result of Brexit, then it could have a knock-on effect on building-product manufacturers like ourselves.
What steps have you taken to guard against a downturn in trade in the UK?  
We felt that our best insurance policy was to look elsewhere in the world. China was a natural fit because we already had a strong supply chain there, they hadn't got products like ours at the luxury end of the market, they are very British-brand hungry and there is a lot of construction work going on there.
Were standards not a barrier to entry in China?
That was our challenge. Having identified China as a major market, it meant a significant level of investment to manufacture products that meet the Chinese standards. So we set about designing and tooling up for those products. Also, our factories over here had to be inspected by the CQC, the Chinese quality commission, which is effectively the same as the British Standards organisation over here. This, and tooling up was a reasonably expensive process, but we gambled that it was worth the investment.
[Business advice service ] Locate East Sussex provided us with a low-interest loan and some grant monies to be able to start the tooling process. We were pointed in their direction by our bank NatWest. The CQC came over here, inspected our factories and passed us and that meant that we were the first and only electrical manufacturer, certainly in the UK, and I think in Europe, to be given that certification. So, we are the only licensed company in our industry to be able to manufacture outside of China and export back into China.
What proportion of your trade is now with China?
We've not been actively selling into the market for long, but our second biggest customer is now our distributor in China. It probably represents about 5% of our business, but the projections are that this will grow significantly over the next three to five years.
How have you got around any language and cultural barriers?
It was a little bit of a challenge, but as we had relations built already with our supply chain in China it meant that part of that work was already done for us. We have an exclusive distribution agreement with a company in China that was originally part of our supply chain and it's helped to have people in the territory. They have appointed a number of distributors now and opened our flagship showroom in Shanghai. I also go out there regularly and I think it is important to meet these people face to face when it comes to building trust and strong relationships with them.
From our experience, it takes a lot of effort and investment, but the market in China is opening up to British companies in particular and the Chinese Government is trying to foster those relationships. To anyone out there trying to alleviate the effects of Brexit, I would have no hesitation to recommend that market.
Ensure your Business Partners are 'Ready for Brexit' with the BrexSure Brexit audit tool
Download the Brexlist – your Brexit checklist for preparing your business for Brexit