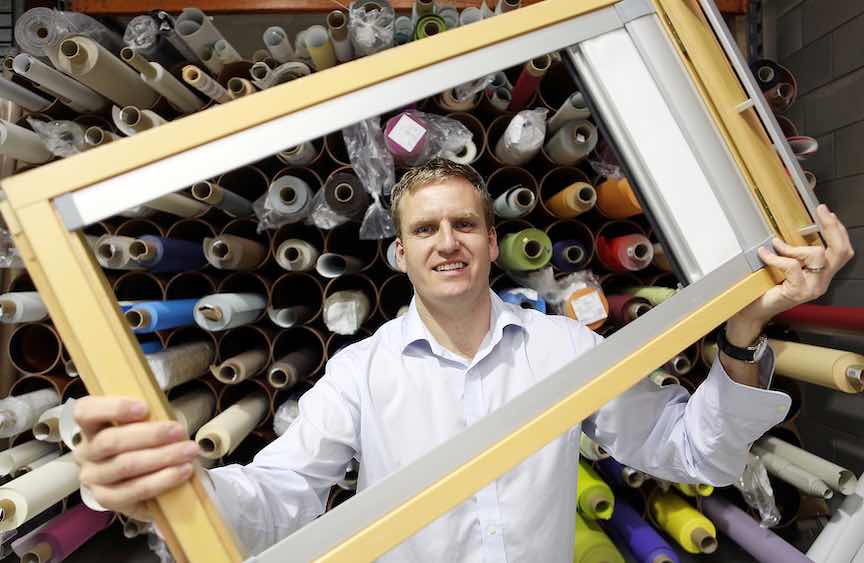 In the absence of any real governance from local or national Government, Cormac Diamond, the founder of Belfast-based blind manufacturer and designer Bloc Blinds, is preparing for the worst and hoping for the best when it comes to Brexit
What is Bloc Blinds' business model?
We started about ten years ago. Initially, we were solely internet-based, selling direct to consumers. Now, we also work with a lot of third-party suppliers who are essentially marketing firms who don't manufacture anything themselves and we do the fulfilment of their blinds directly to consumers. We have other bricks and mortar clients as well and we work instore and online for John Lewis. We have our products in their stores so that customers are able to interact with them directly and we have an e-commerce side with them, where we ship directly to customers.
Do you manufacture on site?
We have designed our product to be manufactured as much as possible in the local area and we consider local as being Europe. We have a lot of European supplies for components, but equally the injection moulds and a lot of our components come from Belfast. We stay loyal to local manufacturers to benefit from quicker delivery times and just-in-time production, so we don't have to have big stocks of product and we can adapt and amend any of our designs to meet new demand or new opportunities relatively quickly, rather than working on a longer lead time from the Far East, which typically serves much of our industry. It works for us.
What do you see as the key issues for Bloc Blinds from Brexit?
Between 30 and 40% of our product heads into mainland Europe, into Germany, France, Belgium and The Netherlands, so that was our immediate concern after the news of the referendum broke. We looked at how Brexit was going to affect our growing European base and equally our supply of raw materials coming in from there.
So we have an incoming raw material issue and then finished goods, ease of movement issues because in the internet world people are purchasing on price, but equally on service. If we have any delays to products from here being shipped into our target markets it would be detrimental to the overall project of European sales. Consumers won't want something that could either be faced with customs issues when the product arrives or a longer lead time when it is being delivered to them.
What are you doing to mitigate this?
From an incoming goods/raw material point of view, we have increased our stocks, we have bolstered supply and we've reached out to suppliers to discuss how we manage Brexit as we work out what it is going to be. We have planned for the worst case in tariffs and we've really tried to mitigate any of those tariffs, rather than have to pass the costs on.
From a finished product point of view, we have set up a business and have just taken a tenancy of a warehouse in The Netherlands in order to stock finished goods there. This means that, from an end-user point of view, we can maintain a very fast delivery of product and not be exposed to any delays at any of the seaports or overland transit through borders, etc. It is all ultimately putting a strain on our cash flow, because we have increased the amount of finished goods we have. Prior to the Brexit announcement, we manufactured on demand.
Why did you choose to create a supplementary base in The Netherlands and not Ireland as you are so close to that border?
We tried to predict what the ramifications of product being moved through various ports would be. We didn't want to be caught up in the potential log jam of trying to get product off the island of Ireland. We typically transit through GB mainland.
If our product was going through the island of Ireland into Europe, this doesn't always mean it circumnavigates England, it often goes through the port there and then would be hauled by road across to Europe. Then we thought if it goes the long way round by sea to mainland Europe, through Cherbourg or Le Havre, then it would face increased loading on those routes. We looked at what would be the availability of container or lorry space on those routes and ultimately how much would it cost for us to do that and have it slower on its movement. So we decided to set up as close to the customer as possible, which is why we chose mainland Europe.
Do you plan to manufacture in The Netherlands too?
As this stage, it's just about storing the finished product. We hope that we can maintain all of our production in our premises here. We don't want to duplicate production processes because they are unique and we manage it very well here. The reality is we are a small business; having to run dual sites would really be stretching our resources, but if it comes to it we are in business to trade and if that means we have to look at having some sort of in-market production in the EU we wil not rule it out. At this stage. we are concentrating on ensuring that we have sufficient stocks in the EU market to serve our customers' needs.
What is the overall mood in Northern Ireland towards Brexit?
There are two aspects to it really. There are a lot of businesses within Northern Ireland that are not export-led. They are maybe more looking at the practicalties of raw materials coming in. From the export side, there is very much a sense of frustration about how Northern Ireland in its unique position has been handled. It has been muddled in along with UK mindsets of how Brexit is going to manifest itself, but Northern Ireland is a very unique place, it is an island off an island off of what is the main export market for us.
It is not a very big export-led economy and that is a frustration, because there was such an opportunity for businesses here to exploit the European market and grow through that, rather than be inward facing and looking at their own 'home market.' There were great opportunities there, and they remain there, but the  frustration is from a lack of information and the speed at how Government, both locally and nationally, is addressing the concerns of local businesses. That is why we have parked any of the political aspects of Brexit and said we are just going to go and do our own thing. In the absence of any information, we have to plan for the worst and hope for the best. At this stage, we think we are reasonably robustly set up to deal with whatever Brexit is.