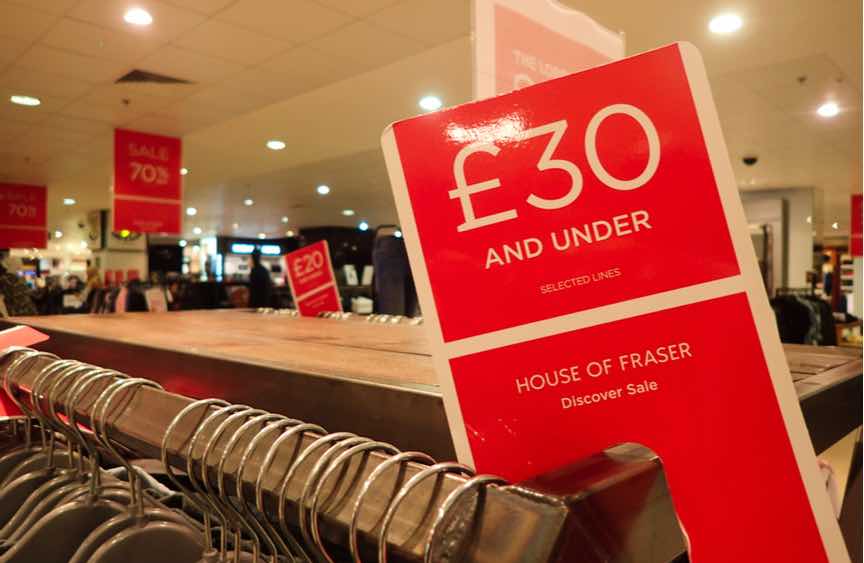 The BRC – KPMG retail sales monitor for September 2018 reveals that UK retail sales fell by 0.2% year-on-year. A number of factors contributed to this drop and Brexit uncertainty is one of them. Anna Tobin reports
The latest BRC – KPMG retail sales monitor covers the five weeks from 26 August to 29 September 2018. During this period, it found that UK retail sales decreased by 0.2% on a like-for-like basis from September 2017, when they had increased by 1.9% year-on-year.
Over the three months to September, in-store sales of non-food items fell 2.7% on a total basis and 4.0% on a like-for-like basis. This is in line with the 12-month total average decline of 2.7%. Over the same period, food sales increased 2.3% on a like-for-like basis and 3.4% on a total basis, which is still below the 12-month total average growth of 3.7%.
Moving online, sales of non-food products rose 5.4% in September, compared to a growth of 10.7% in September 2017. This is the lowest growth since January and below the three-month and twelve-month averages of 6.7% and 7.1% respectively.
"Like-for-like retail sales in September were down 0.2 % on this time last year, but then last year consumers were remaining more defiant in the face of Brexit and shopping regardless," explains Paul Martin, UK head of retail at KPMG. "Grocery continued to perform, but growth in the category retreated in September. The non-food categories, however, continued to disappoint. The historically reliable back-to-school push did not elevate apparel sales. Instead, the latest tech launches were a rare source for optimism. Online retail continued to fare better. Even clothing sales managed to grab the attention of those browsing the web to refresh their wardrobe.
"The final golden quarter of the year marks the ultimate test for many players, but retailers must also successfully navigate the upcoming government Budget, Black Friday, Christmas, and of course Brexit."
Download the Brexlist – the Brexit checklist, an invaluable tool that will help your business to prepare for whatever happens after March 29, 2019
Adapt your supply chain to mitigate border delays
Why retailers must be creative to fill warehouse jobs post-Brexit