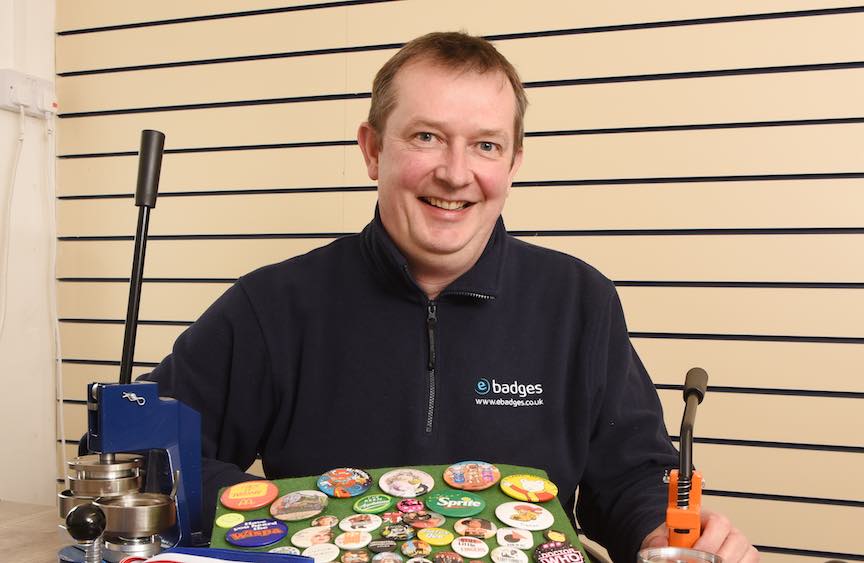 eBadges
Andrew Vear, owner of Lincolnshire-based button-badge making machine manufacturer eBadges is taking a pragmatic approach to Brexit
Can you explain what eBadges does?
eBadges is a Lincolnshire-based, family-run business which has been designing and producing professional button badge making machines for over 40 years. Collectively, we can turn our hand to anything; from machine manufacture – drilling and tapping, to processing orders, arranging photoshoots, pressing badges, creating artwork and, very importantly, dealing quickly and competently with all of our customers.
What preparations has eBadges made for Brexit? 
Most of our export business is to mainland Europe. In order to minimise the risk of disruption following 31 October, we are building our stocks so that approximately three months of stock will be on the European mainland. Increasing stockholdings in our platform markets and consignment stock for our resellers are things we did for the end of March and are likely to be part of our 31 October plan.
Our aim is to be well-stocked in the right places when or if Brexit happens. We will then have time to evaluate the circumstances of our Brexit deal and make short and long-term plans once there is certainty or clarity about the future trade deals.
What do you see as the main problems your business will face after Brexit?
With 50% of our turnover being in Europe, a disorderly Brexit will provide a lot of uncertainty of supply of goods to the EU mainland. Unknowns regarding border controls and the likelihood of less beneficial trade agreements are likely to be detrimental to the long-term growth of our business.
What external support is helping you to solve the issues that Brexit has thrown up?
At the moment there is a lot of support for businesses from UK Export Finance, a Department for International Trade initiative to help finance international purchases and sales. The Government has been doing a lot of preparation, though this does not seem to have received much publicity. Additionally, when speaking to other businesses there is very much a "we are all in this together" approach where people are happy to share thoughts and plans.
What opportunities do you think Brexit will present for your business?
Being VAT registered in several European countries will mean that, should the post-Brexit trade deals not prove beneficial, we can easily move part of our production to mainland Europe. Additionally, a weak pound – as we have had since the referendum – looks likely to remain for the foreseeable future. This is hugely beneficial to us exporting, as it makes our products, which are made in the UK, seem to be much more competitively priced.