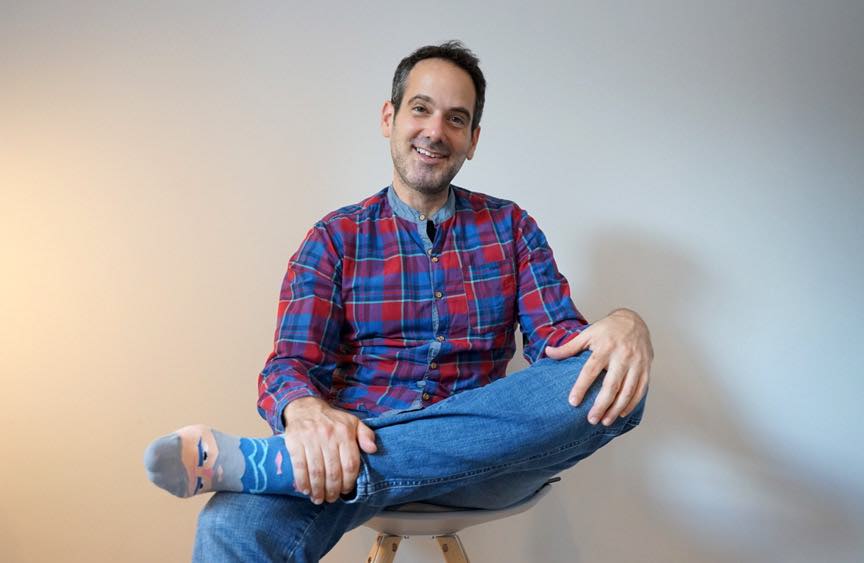 Gil Kahana, co-founder of London-based sock and giftware company ChattyFeet, believes that being a small business will give him the flexibility to deal with the logistics of Brexit, but he fears a Brexit-induced economic downturn could hit demand for non-essential and luxury goods
Has Brexit impacted your business yet?
We are thinking about Brexit and we have a plan of action that we will implement if things happen in a way that could damage our business. The first effect of Brexit we felt was with the change in the foreign exchange rate. I see from other interviews you have done on Ready for Brexit, that the value of the currency has had a massive effect on others too. When you're buying from Europe and the pound becomes weaker it has an effect, and it's frustrating, but you have to move on.
Where do you manufacture from?
We produce our products in Europe. They are produced in Portugal, Spain, and Bulgaria. It really depends on what the capacity is of the producer at the time we need them. The great thing about being quite a small company is that we are flexible, so we can we can change our logistics easily.
What steps are you taking to continue manufacturing smoothy following Brexit?
We are thinking of setting up a warehouse in Europe, which I don't think is going to be too difficult to do. Again, I think it is much easier for a smaller business to do this than a larger one. Very large companies have many more dependencies and this makes it much harder for them to deal with and adjust to Brexit. We are flexible, we can adapt quickly. We can take decisions and then change them if necessary without a lot of bureaucracy. When Brexit comes we are ready to react quickly if we need to.
How much of your trade is with Europe?
We sell between 20% and 25% of our products to Europe. At the moment, all our products are shipped to the UK for distribution to different countries, including back to Europe. Having a European warehouse will enable us to distribute to Europe directly from there. I wouldn't look to move further afield, say to Asia. I like that everything is made quite close by, it means that we can go and inspect our goods easily when we need to.
Do you worry about predicted delays to UK imports?
If Brexit is going to affect the time that it takes us to operate, it is going to be very frustrating and it may mean that we change our focus from the UK to other countries.  At the moment, our biggest headache comes from exporting to the USA. It's become much harder in the last year to export to the USA. Customs there is becoming more frustrating to deal with and we are now being asked a lot of questions that to us don't make any sense. We fear that the same issues could arise here following Brexit. We like things to move smoothly when we import stuff. We don't want to have to deal with lots of bureaucracy and paperwork. That's not the fun side of the business. I want to spend most of my time on the creative side of the business, which means developing fun products that people enjoy using. The moment it becomes harder to import, it's not enjoyable. We are an international brand and for us, it is important that it is easy to deal with any country.
Have you had problems recruiting people?
Recruiting isn't such a big problem for us. We are an international team and a lot of our work is carried out remotely. We are more flexible in that sense. I guess this is another area where currency fluctuations could hit, but we now use TransferWise. This means that if we are paid in Euros by a retailer we can then use those Euros to pay our staff or suppliers, so this helps to shield us from currency fluctuations.
Does the impact of Brexit on the overall economy concern you?
The mood of people is a big concern. I think a lot of people are worried about Brexit. We are in the world of giftware. Our products are supposed to give people an excuse to get silly and remind them what it was like to be a child again. In more depressing times, people have less time for these things. So I think the main worry for us regarding Brexit is less around the technical issues and more around what kind of products will dominate the market at the time.
When people are struggling they are going to be focused on buying the necessities of life – food. The luxury and fun items are going to be forgotten when it's tough and that is a worry. I really hope that it doesn't come to that. I hope that when Brexit happens it won't be a big crisis, but there are already some signals – people are already being shown to be worried about investing in the UK.
We also benefited hugely as a business from the European Union. We were very fortunate to get on to the British Library Innovating for Growth Programme, which was like a business incubator. It was really essential for our growth. We got hours of free advice from experts and that's a European Union-funded programme. After Brexit programmes like this probably won't exist anymore and that's such a shame.