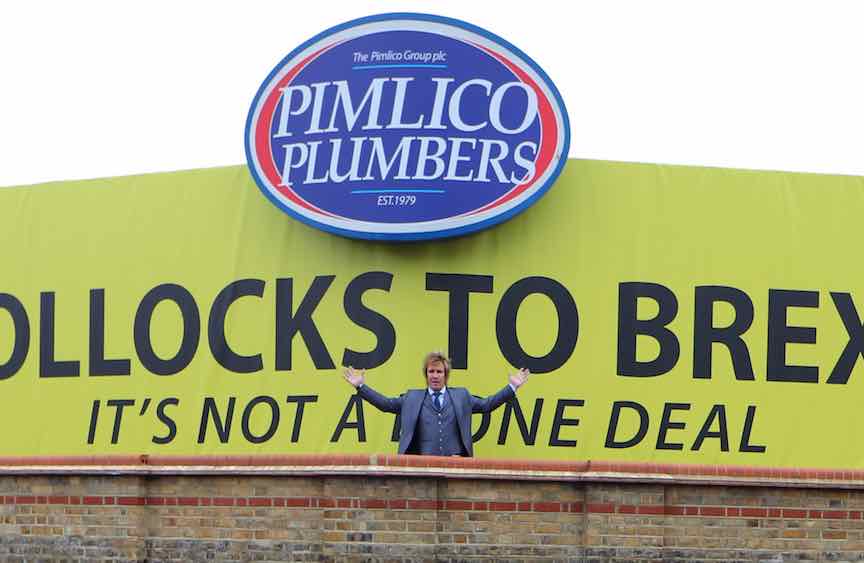 Charlie Mullins OBE is the founder of Pimlico Plumbers and the man behind the controversial campaign 'Bollocks to Brexit.' He spoke to Anna Tobin to explain why he set up the campaign and how concerned he is at the damage Brexit will potentially do to UK SMEs
Charlie Mullins left school at 15 to fulfill his lifelong ambition to become a plumber. Not long after that, he set up Pimlico Plumbers from a basement in Pimlico and grew it into a multimillion pound business. In 2014, Mullins was awarded an OBE. He is extremely proud of this, but he feels so strongly that Brexit must be stopped that he says handing it back is a sacrifice he would make to get Brexit overturned. "I got the OBE for services to plumbing, business and my work with apprentices, it's not my plan to return it, but if someone said to me send your OBE back and it will stop Brexit. I would do it," he says.
So what has made this self-made millionaire so keen to stop Brexit in its tracks to protect his business and thousands like it? "Brexit is going to be a huge problem for business, especially small business," he explains. "A lot of the big companies have spoken out against Brexit, but they are doing no more than that. They can probably move abroad and carry on their business as before, but most small businesses, probably 99% of them, will be stuck over here and stuck with the problem. We've got to do more and my aim is to get a people's vote."
Mullins believes that Brexit can be stopped, he can't see any credible arguments in its favour. He's now stepping up his 'Bollocks to Brexit' poster campaign and says "I'm pretty convinced that it won't happen, because of the madness and stupidity of it."
If Brexit does go ahead, he says businesses must prepare for an inevitable recession. "The only way you can prepare for Brexit is how you would for a recession: tighten up on staff, cut down on spending and advertising, stop any expansion plans and cease any investment in your business. There are no two ways about it: there will be massive unemployment, money will become tight and interest rates will go up.
"What normally happens to a company like ours in a recession is that people don't have new bathrooms, kitchens, and boilers, they keep repairing them. So, what we tend to do is step up the maintenance, repair and emergency call-out side of the business. The problem that companies like mine and many construction companies are going to have though, is that as there will be fewer workers able to come over here from the EU, it's going to be harder and harder to get skilled tradespeople. I think a lot of construction sites in London will come to a standstill because of it."
Although the name suggests otherwise, Pimlico Plumbers undertake most building work from roofing to fitting kitchens and a large portion of its supply chain is fed by the EU. "Some of our suppliers are already pre-warning us that the day after Brexit there will be a 10% increase on most of the stuff that we get from the EU," reveals Mullins and he reiterates that his is only one of the thousands of companies that will be hit this way and that those costs will have to be passed on to customers. "It's all going to go around. The cost of living is going to be dearer. I just feel that we're going to have a recession, those extra costs can't be absorbed."
With his controversial campaign, Mullins has put himself in the public eye as the spokesperson for small businesses on Brexit, because he feels that no one is representing SMEs views on Brexit. "It's unfortunate that the Federation of Master Builders, the Institute of Directors and various other organisations couldn't put the message out there to people.
"I'm not doing this out of spite. I'm doing this purely from a business point of view and thinking of the future and how damaging it could be for everybody's future. A lot of people will become unemployed because of it, we could go back to a three-day week. There's talk of stockpiling medicines and food and queues at the borders. We've got to take some of this seriously. I don't get why the Government is not recognising this. They say it's scaremongering, but it's common sense and common sense must kick in. Most recessions come by accident, but this one is preplanned. It's as if our Government is planning for us to go into a recession."
Download the Brexlist – your Brexit checklist for preparing your business for Brexit
Discover how a return to World Trade Organization Rules will change how the UK trades with the rest of the world