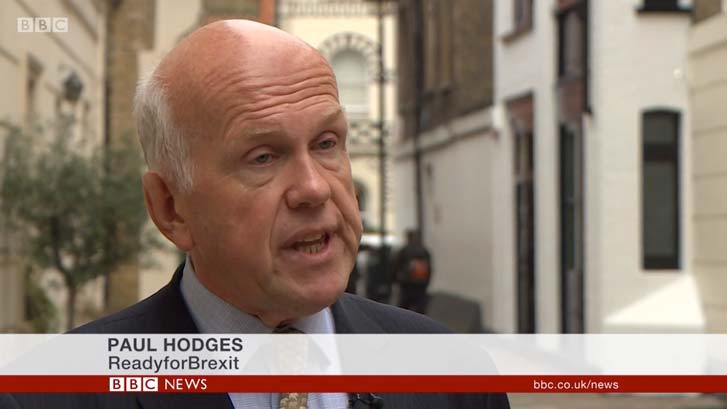 Paul Hodges explains how Ready for Brexit developed into the only advice service for small businesses trying to navigate Brexit, in whatever form it takes
Our Ready for Brexit team are all experienced business people who learnt their trade with major exporters such as ICI, BP and DuPont before moving into the SME sector. Between us, we have over 250 years of hands-on expertise in all the key areas associated with Brexit – Customs and Tariffs, Finance, Legal, Services & Employment, Supply Chain – and how they relate to SMEs. Importantly, we also have experience of operating in the pre-1993 Single Market and Customs Union days.
Like everyone, we looked at the Brexit decision in June 2016 as offering challenges and opportunities. Clearly, things were going to change in terms of doing business with the other EU27 countries after Brexit. And the more we thought about it, the more we realised that there was probably scope for developing an online platform to help other SMEs adjust to these changes.
Every business venture also has to have a robust value proposition. We realised ours was the fact that we had experts within our team who knew all about the critical areas that would change after Brexit – Customs and Tariffs, Finance, Legal, Services and Employment, and the Supply Chain.
Importantly, we also realised that almost all the post-referendum debate had been around the politics of Brexit. Nobody was focusing on the business issues involved with leaving the European Union. And when they did discuss these issues, the debate was often in highly technical terms that no normal person could understand.
So after lots of discussion, we decided that our mission would be to help SMEs to understand the key opportunities and threats that Brexit created for them. We also decided to do this by forming partnerships with trade associations, Government and others who worked with SMEs. And, of course, we would design the site to be independent and objective – a trusted partner for companies as they launched their Brexit journey.
The Ready for Brexit site is, therefore, effectively the one-stop shop requested recently by the CBI. Its focus is on SMEs and the larger companies they are linked to via supply chains, and it provides curated links to specific information that different SMEs will need to prepare for Brexit:
BrexSure – the self-audit tool which highlights the key area or areas of risk to different businesses
BrexLists – detailed Brexit checklists, tailored to different business requirements 
The Brexit Directory – curated links to the detailed guidance required in each key area from the UK Government, the European Commission and other authoritative Brexit sources
Brexit Negotiation Update – Links to all the key official websites in the UK and Brussels
News & interviews – We have a professional journalist providing daily news and interviews with SMEs on Brexit's impact
Of course, deciding what to do was the easy part. Putting it into practice took us a year of concentrated work, before we launched in June 2018 on the second anniversary of the referendum. 
You might think that an afternoon with Google would be all that is needed. But if you put the word 'Brexit' into Google today, you get around 344 million entries. It was much less when we started, but it was still a mountain to climb. Of course, we had the advantage of knowing what we needed to include on the site, but we still had to find the information that our members would need, and verify it.
Another challenge was that we knew Brexit would become more and not less complex as time went on. So we made a decision that we would start simply and then scale rapidly, building functionality as we went. All the time, we had in mind the key priority – which was to make it easy for SMEs to locate mission-critical material for their business.
Over the past 18 months our team, together with our very talented team of web-developers, has focused on building the Ready for Brexit site according to these basic principles. We hope that in its next stage of development, we will be able to create the opportunity for our members to engage with each other on some of the detailed 'how-to' questions connected with their day-to-day business.
Operating the Ready for Brexit site has become a journey in itself. Every day brings new material to add to the site. And we are regularly reviewing it for material that has become out-of-date or irrelevant. The good news is that SME business owners and employees clearly like what we are doing, with visitors to the site climbing exponentially since we launched.
We have also been very encouraged by the attention we have gained in the media. We have recently given interviews to BBC News, Channel 4 News, the Press Association and a range of other national and local media. We regard these interviews as being critically important in achieving our mission – of helping SMEs, and the people who work with them, understand how to survive and profit from the challenges and opportunities created by Brexit.