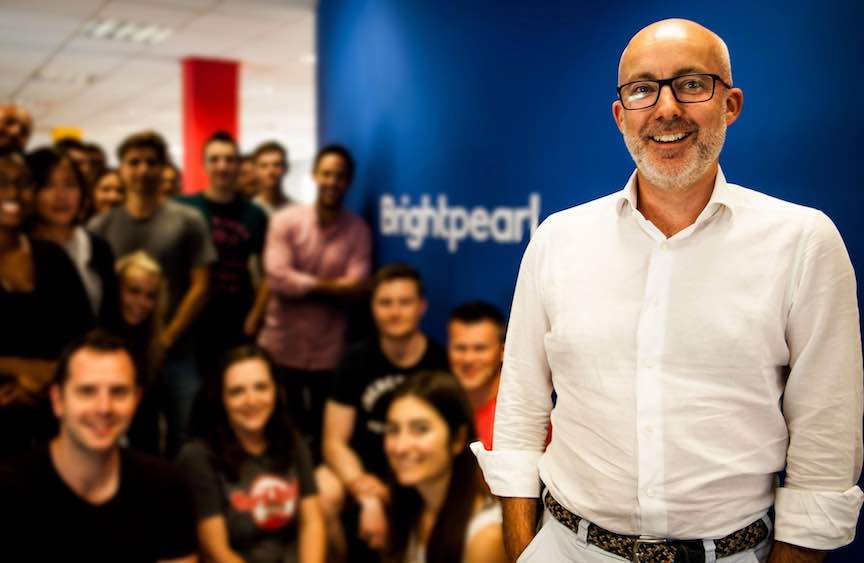 Derek O'Carroll, chief executive officer of retail automation system provider Brightpearl says that retailers must be creative to survive a possible Brexit-induced warehouse labour shortage
This article is the view of the author and not necessarily of Ready for Brexit
It used to be that consumers filled the roles that warehouse staff now do within the retail space. In the past, it was consumers who would identify and ultimately pick out the products they wanted. That's not the case anymore. Thanks to the increasing role that e-commerce plays in the global consumer marketplace, staff now often complete these tasks. As a result of this, labour has become a pressing issue for retailers to address – particularly within their warehouses.
This challenge is further compounded by the UK's departure from the EU – and the impact that potential changes in immigration may have on warehouse employment. Perhaps the biggest unknown in the equation is labour availability. The UK may retain the current policy of allowing EU citizens to migrate freely in and out of its borders, but a 'hard Brexit' may mean the UK forms new restrictions on immigration.
What we do know is that Brexit is already having an impact on UK immigration, which means qualified workers are becoming harder to source.
Net migration to the UK has dropped by 84,000 since the Brexit vote. Assuming this migration trend continues, all businesses will have to contend with a smaller labour pool. The warehousing sector will be amongst the hardest hit, as around 15% of warehouse workers in the UK are currently Eastern European.
There isn't an easy solution. Over the pond in the US, businesses are also experiencing a labour shortage (though obviously not due to Brexit). USA Today reports that they are attempting to put a plaster over this issue by giving more work to existing employees and introducing strategies that include hiring temporary workers and partnering with schools to develop a new generation of employees.
Speed, accuracy, and convenience are essential components to any warehouse management system – yet having to train new temporary workers, or pay overtime to existing employees is a costly, inefficient solution, while seeking new talent to train for long-term employment isn't going to solve the warehouse dilemma in the short term.
Three strategies outlined below can strengthen retailer warehouse management operations, without being impacted by the challenges that come from the increasing staff shortages.
Introduce automation to eliminate hands-on labour
Retailers must embrace more efficient warehouse management to offset staff shortages. Fortunately, technology allows warehouses to mitigate the effect of this. Automation, as an example, makes it possible for high growth and mid-sized retailers to streamline their operations while also eliminating much of the hands-on labour that warehouses have historically had to use in the past.
Warehouse management software (WMS), such as Brightpearl's Warewolf, allows merchants to become equipped to batch pick, pack and dispatch orders through configurable and automated workflows. This enhanced performance – comparative to old-school retail habits that may include tracking of inventory through pen and paper or even non-cloud based software – helps merchants to achieve stronger productivity, increased efficiency, and improved processes.
Additionally, WMS helps to remove administration time and error when it comes to shipping. Carrier rules can be automated, shipping labels can be embedded and printing can happen on demand – once again proving that automation is an essential component of today's modern merchant.
Unifying operations at the warehouse level allows retailers to gain control of their inventory, shipping, and overall operational efforts. Identifying processes that can be automated can also free up warehouse staff to focus on increasing speed and accuracy in the warehouse.
Without automation, it will be a difficult task for retailers to remain competitive. Merchants must prioritise their warehouse management by getting the right system in place to meet consumer expectations, ease labour inefficiencies and strengthen their overall inventory management.
Welcome a financial shift in their business overheads
With a reported 43% of businesses not tracking their inventory, it's important to remember how this lack of insight can impact a company's finances. This is especially important when you consider that every single action completed at the warehouse level has a direct financial impact on a retailer's business.
Consequently, it's critical for all interactions to be monitored to ensure every touchpoint within the warehouse space is trackable. With traditional labour, however, this is not always possible. While warehouse staff will undoubtedly still play a role in warehouse management and retail at large, WMS is becoming essential for businesses operating with reduced staff overheads that don't want to compromise on warehouse management efficiency.
Financially, technology presents an opportunity for savings that businesses can reinvest in their growth – an important factor for merchants to consider as they look ahead into 2018 and beyond. By introducing a WMS solution, businesses can gain full visibility across all business operations – allowing merchants the ability to better meet customer expectations in terms of order placement, payment, fulfillment and more.
Maximise operations thanks to data
Reviewing and reacting to data is among the most critical points modern merchants should adapt to. Data – generated from WMS and other software solutions available to retailers – allows businesses to optimise their operations across the various platforms that impact on them, including, but not limited to, physical shops, online stores and, of course, warehouse management.
The quality of data is all important, however. Retailers must have in place robust, clean data, that's easily accessible from a central hub. Merchants can do this by using solutions that combine real-time data from all channels into a single platform that allows for more intelligent decision making, including in the warehouse.
Overlapping these various touchpoints is essential for today's modern retailers as it allows data and other vital company information to transfer seamlessly. Ultimately, it's this cross-border engagement that allows merchants to strengthen their operations, while reducing labour-need along the way.
When it comes to warehouse management, data on inventory management, shipping logistics, packing details and more, are crucial elements to optimising overall operations – but it's not something that humans alone can accurately monitor. Even your best worker will have an off-day every now and then.
This single point alone confirms the value that WMS can offer today's merchants – while also confirming that the absence of qualified workers does not have to be the end to your business.
Warehouse management is a critical strategic element for merchants to introduce, helping to drive bottom-line success while also helping to establish customer loyalty. An added perk? The automation and data derived from warehouse management can fill in where staff simply cannot – and financially, that can bring an added value to retail businesses, as well.
To find out more about how the UK's legal and regulatory infrastructures will change as a result of Brexit, visit the Ready for Brexit Directory
Download the Brexlist – your Brexit checklist
Discover how a return to World Trade Organization Rules will change how the UK trades with the rest of the world