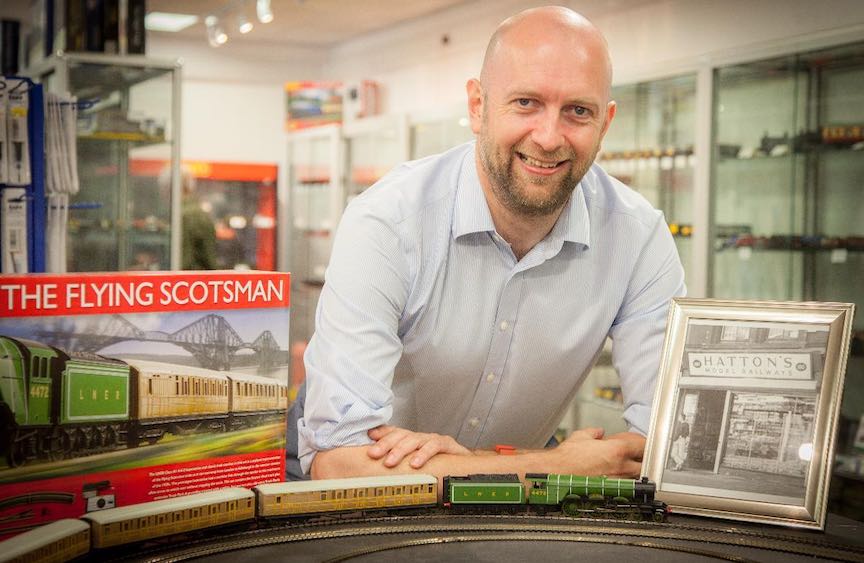 Richard Davies, managing director of Cheshire-based Hattons Model Railways, says that trading internationally has prepared him for following WTO rules in the event of a no-deal Brexit
How prepared is Hattons Model Railways for Brexit?
I'd like to think that we are well prepared. We are a pragmatic operationally focussed company. We have grown an awful lot over the last 20 years and that's through being very practrical and very IT-oriented. We have put the customer first by letting the technology drive the business.
The vast majority of our stock is made in China, so we envisage that there may be a few delays for stuff coming in through China, but it's not really a major problem as we don't source much stock through the EU. With regard to the purchases of stuff to help us run the business, i.e. packaging materials, labels and card and that kind of thing, what we have done is forward bought an awful lot of what we need to cover us for at least eight weeks after Brexit day. We did this for the initial March deadline and again we have done this for the next deadline. These sundry items are not expensive, so it hasn't had a big impact on our cash flow, but without them the whole operation could stop. If anything, the only problem it has caused us is finding storage space for it in the building.
What percentage of Hattons Model Railways' customers are based in the EU?
Of our £17 million turnover about 10% of that is to outside of the UK and just over half of that it to within the EU. From our point of view, because we are a very tech driven company and because the average order value is over £100, having the right IT systems ready is the best we think we can do for when there is any change over or move to WTO rules, so we can easily modify our systems to make sure that we can carry on shipping through our normal services. The software that we use to facilitate our international shipments is called  GFS Checkout. It is bulit in to our website ordering system and it will, if there are any changes i.e. in taxes, make that change automatically for us. We want to be transparent with customers with what we are doing and this system allows us to do that.
How has the fall in the value of the pound impacted on your business?
Well, after the referendum, when the pound crashed then what that meant for our international customers was that they were getting more for their money so we saw an increase in trade straight after the referendum. We have seen particular growth in custom from Australia and America since the fall of sterling, so that has been a benefit for us, but our costs are also going up for the products we are buying in. So it's a bit foolish to celebrate the problems of sterling because they catch you on the other end. We do think that the pound is likely to fall further and with some of our suppliers in China we've actually paid some of our bills early and negotiated better rates.
We are one of the biggest firms in the industry and we try to be minimal hassle for everyone. I just wish Brexit was over with quicker really, but I suppose everyone feels the same way. I'm not daunted by moving to WTO rules, because we've been doing that for a long time with many other countries anyway.