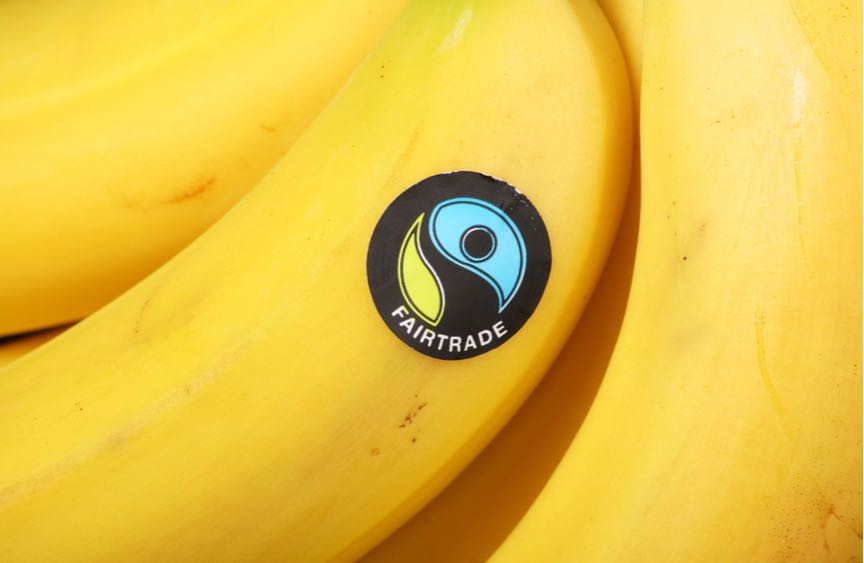 The Fairtrade Foundation, which campaigns to get a better deal for producers and workers in developing countries, warns that an increase in trade tariffs could seriously damage the Fairtrade banana market and many other Fairtrade industries. Anna Tobin reports
The Fairtrade Foundation's latest briefing paper Delivering a Fairtrade Brexit explores how different Brexit scenarios could impact on the UK Fairtrade market. The report's overriding message is that to protect the trade of Fairtrade goods coming into the UK, a transition period is necessary and a withdrawal deal must be reached.
The paper uses the UK's trade in Fairtrade bananas as an example of the damage a no-deal Brexit could do to the Fairtrade industry. Around one-third of UK-sold bananas are Fairtrade and the UK consumes around 20% of all bananas within the EU. Many of the EU's Fairtrade bananas are shipped to UK ports, where they clear customs before being transported to UK retailers and onto other EU countries. Upon arrival in the UK, the consignments of bananas have a conformity check and then have a certificate stamped.
Some traders will have successfully applied for a renewable exemption from these checks, to speed things along. As some ships continue on to deliver more bananas direct to other EU ports, having the same customs documentation and requirements is key to moving these perishable goods on to their destinations as quickly as possible. If Britain becomes a 'Third Country' the potential delays at ports could put the consignments of tonnes of bananas at risk.
The Fairtrade Foundation has also looked at the claims by some that leaving the EU could bring positive benefits to the banana trade through the lowering of import taxes on bananas, either through Free Trade Agreements (FTAs) or through a lower 'Most Favoured Nation' (MFN) tariff; but it says: "This ignores the complex history of disputes in the banana trade, the World Trade Organization (WTO) rulings on bananas, and the preference erosion which can occur as a result of liberalisation. The value of duty-free, quota-free access diminishes as it is extended to more and more countries, and so any decision to liberalise tariffs should only be taken after thorough impact work and careful consideration."
It's not as simple as rolling over existing trade deals
If there is no withdrawal agreement or transition period, existing EU trade deals will end on 31 October 2019. The Government may hope to rollover existing free trade arrangements, but the Foundation is sceptical about this being able to happen in such a short time.
The paper states: "Without bilateral deals in place, these developing countries would be reliant on the UK's unilateral offer through a new preference scheme, or on the 'Most Favoured Nation' (MFN) rates agreed through the WTO, based on the principle of non-discrimination. The UK's current position is to duplicate both the EU Generalised System of Preferences (GSP) and the EU's WTO schedules in the first instance and so as bananas are currently excluded from the EU's GSP, falling back on these mechanisms would see an increase in import taxes on bananas from developing countries. For the Dominican Republic, Belize, St Lucia, Côte D'Ivoire, Ghana and Cameroon, this would be a tariff increase from zero to the MFN rate of 117.00 EUR/1000 kg (decreasing to 114.00 EUR/1000 kg from 2020), unless the UK Government takes unilateral action to guarantee existing access under a WTO waiver."
Fairtrade coffee, sweetener, chocolate, flowers, and wine are other industries that the Fairtrade Foundation says will be negatively hit by a no-deal Brexit. The full report can be read here.
In conclusion, the Fairtrade Brexit report makes four key recommendations:
It urges the UK Government to ensure that developing countries do not lose their market access. "The UK government should guarantee access for developing countries with EPAs and FTAs even in a 'no-deal' scenario. If a 'roll-over' of deals proves more complicated, the UK may need to apply for a WTO waiver allowing for preferential rates to be granted unilaterally."
It calls for a future UK-EU agreement that supports trade with developing countries. "The UK Government should provide clarity as soon as possible on future customs arrangements, including the conformity checks and documentation that will be required at UK-EU borders in different Brexit scenarios. In the context of a Withdrawal Agreement, the UK should ensure that the future UK-EU trading relationship supports trade with developing countries, including through agreement on 'rules of origin."
It should protect developing country producers from any negative impacts of Brexit and maximise opportunities to increase protections. "The UK government should re-examine what protections it can extend to overseas suppliers (particularly those in developing countries) once the UK exits the EU."
It should see that future trade policy has development objectives at its heart. "The UK Government should amend the legislation to ensure that development impact and achievement of the SDGs is considered when setting tariffs and wider trade policy… The UK Government should give further detail on its commitment to conduct impact assessments ahead of new trade deals, and enshrine this commitment in the Trade Bill… The UK Government should look again at the problematic 'Economic Partnership Agreements' (EPAs) and consider alternative ways of granting market access, addressing tariff escalation and supporting regional integration… The UK Government could establish an 'Aid for Fair Trade' Fund, to drive development impact for producers and the achievement of the SDGs through trade."
Discover how a return to World Trade Organization Rules will change how the UK trades with the rest of the world
How to deal with customs and tariffs issues impacting on your business post Brexit
Download the Brexlist – your Brexit checklist