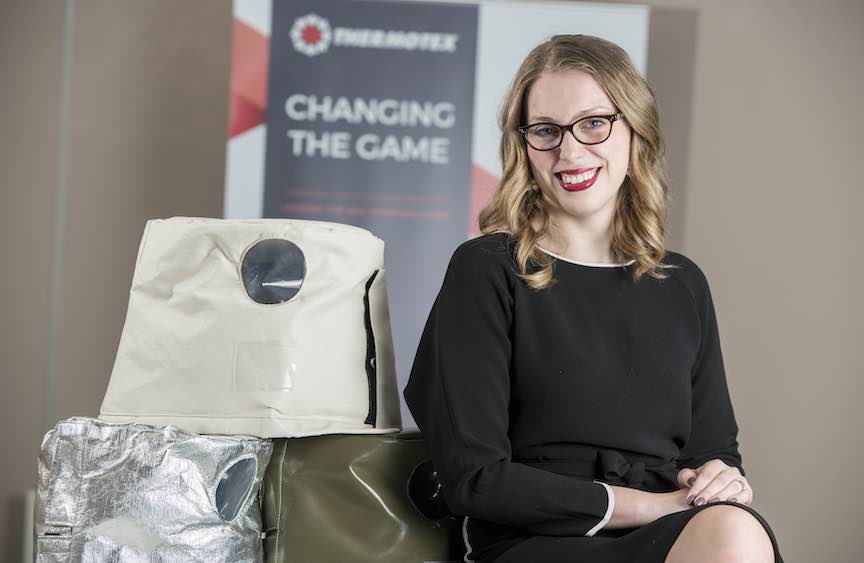 Chloe Watmore, managing director of Derbyshire-based custom-designed thermal products manufacturer Thermotex Engineering says that many SMEs avoid discussing Brexit, but she is adamant that it mustn't be pushed under the carpet
When did Thermotex first feel the effects of Brexit?
It's starting to have an effect internally and externally now in terms of the uncertainty surrounding it. People are taking precautions as is only sensible and logical. We have seen this with suppliers and clients and internally we are preparing ourselves too. We have had European clients starting to ask for a formal declaration of our Brexit strategy and on the supplier side, we have had warnings about preemptive price increases and advice on stockpiling and longer lead times, etc.
Is Brexit adding to your costs already?
It's costing us extra in administration and it's costing us in confidence. Simple things that we take for granted – you've got working relationships with your suppliers and your customers – but everything is being a little more stretched. It's putting more strain on lots of relationships. We try and keep it calm and professional and I think that really is a key thing. You must try and work through things together, so there are a lot more conversations being had, which is actually great and I think it strengthens relationships in a way, as we are planning and working things through together. But all this does take time away from the day-to-day running of a business.
How much of your business is executed in Europe?
About 80% of our business is overseas export. So a huge amount of export and I'd say about a third of that goes through the EU.
How prepared are you for the potential changes to the export process when we leave the EU?
We've put a lot of effort into researching what is going to change. In terms of actually implementing everything, well it's kind of where do you go with it? It's wait and see, because there's no confirmation. I think that that is the biggest struggle for me as a business owner. It's the not knowing. You have to plan for several different eventualities. If we knew that Brexit was going ahead on the 31 October 2019, we'd plan for that. If we knew that Brexit wasn't going to go ahead, we'd plan for that. If we knew that we were going to crash out we'd plan for that. I find myself glued to the news and the debates, just because you're constantly watching for vital signs, you're watching for anything that will tell you where to go next.
We try to keep it really clear with everybody that we're still open for business, but it would be really nice to know what the outcome of Brexit is because it would really help us as a business with our strategy and getting on with it, which is what everyone wants to do.
Do you think that the Government is doing enough to help SMEs like yourself?
I think that the message is confused from the Government and I think that the advice is unclear. Even on a broader kind of level, I do networking events with local businesses, with Chambers of Commerce, with banks, etc. and my feeling is that generally amongst businesses, there is nervousness around Brexit to such an extent that people are avoiding talking about it. I think they are scared of getting into a political conversation. I have been to three recent networking events where people either said 'let's not talk about the B word, meaning Brexit' or it's got so far through the networking event and someone would say 'well we've done really well to get through an hour and not talk about Brexit.' For me, that's incredibly frustrating. To me you need your network, you need to all be talking about Brexit and planning for it, that's my view.
Above all, we are planning for growth and we don't want Brexit to get in the way of that.