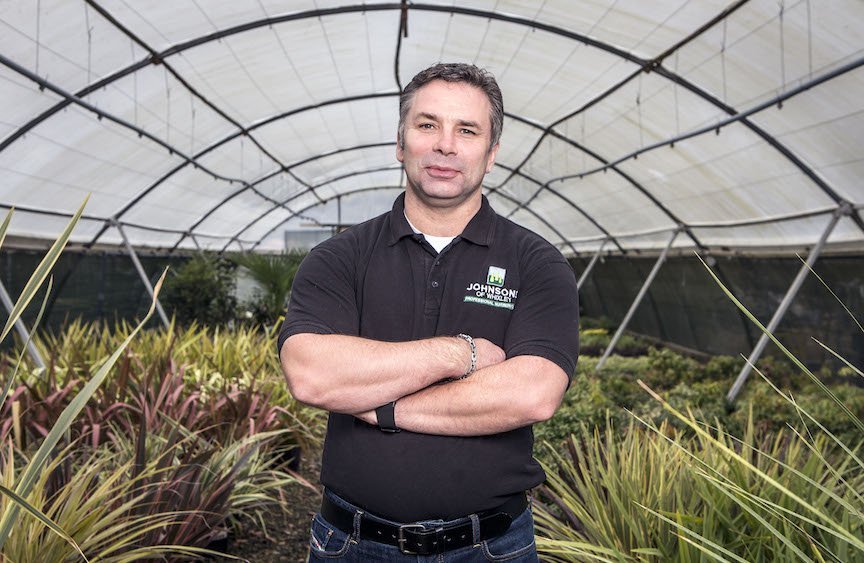 Graham Richardson, group managing director, Johnsons of Whixley, photo John Steel Photography
Graham Richardson, group managing director of Yorkshire-based commercial horticultural nursery Johnsons of Whixley, explains how he is planning to keep his business and his products growing through the Brexit uncertainty
Can you explain what Johnsons of Whixley offers?
Johnsons of Whixley is a horticultural nursery situated between York and Harrogate in North Yorkshire. Spanning 150 acres, the company is one of the UK's largest and longest established commercial nurseries, with clients in a range of sectors from hospitality, retail and holiday parks to residential and leisure. We also provide plants for landscaping schemes involving major infrastructure schemes, supply more than 600 garden centres across the UK and we actively support good causes within the community.
Johnsons of Whixley grows a range of stock, from seedlings to extra heavy standard trees. The company is renowned for the quality of its stock, its expertise and customer service.
What preparations has Johnsons of Whixleys made for Brexit? 
In the last ten years, the horticultural industry has gone through a quiet staffing metamorphosis. Traditionally, our workers lived locally and aspirations were typically 'secure employment in the locality.' These workers have gone on to become our senior and middle managers via a combination of graft, commitment and expertise underpinned by schemes such as the apprenticeships of the late 1970s and 80s.
However, various factors have forced a radical overhaul of our staffing policy. Our once 150-strong full-time payroll has now reduced to 100, which has happened organically with very few redundancies. We now supplement the balance with seasonal workers who can react to seasonal and climatic peaks and troughs and who are prepared to put in a full day of manual work for a living wage pay cheque. These staff are European migrants in the main and have a significant capacity to work. Many of these individuals are settled in the UK; they are motivated and proud to contribute to and benefit from a vibrant economy.
We are not planning for a mass exodus of our European workforce – indeed, we have engaged the services of a specialist migration lawyer to help our staff prepare for any eventuality. Our permanent workforce is once again expanding, and we have provided clinics and workshops with a dedicated migrant worker lawyer to ensure the status of our staff continues to be assured.
However, from a business point of view, planning and strategising has contracted as there seems to be little point in a plan that spans more than a 12-month financial year.  A lack of confidence stifles investment and considered spending – UK business is currently operating in a vacuum of uncertainty and as a result, many significant long-term investment decisions are on ice.
What do you see as the main problems your business will face after Brexit?
The impact of currency has far more potential to influence the success of any year than incremental margin gains or losses. We adopt a cautious annual headline exchange rate and hope to do better via tactical forward currency purchases against a historically based schedule. In the event of no deal, we will have done everything in advance we possibly could and already have agreements in place to assist with the maintenance of imports – at a high and, at this stage, speculative cost.
Our long-established advanced supply chain reduces our exposure to climate change and seasonality – the British climate makes it impossible to grow everything we supply in this country.
What external support is helping you to solve the issues that Brexit has thrown up?
We have already made the necessary provisions for Brexit via our bank and HMRC. In addition, we have secured the advance services of freight forwarders as the passage of immediate and least resistance in managing documentation and compliance in a post-Brexit scenario. This will have to be reviewed as ultimately, this cost could become prohibitive.
What opportunities do you think Brexit will present for your business?
Our pre-planning has become something of an opportunity in itself. Statistics show that a significant percentage of businesses have so far done little or nothing to prepare. An increase in home production to serve the domestic market is the obvious response; however, this is viable only within the commercial context of a perishable product. For us, seasonality and the impact of an increasingly variable climate means attempting to grow our 60,000 list of inventories, with sales of around six million units, would amount to commercial suicide.
Our production commences 18 months in advance of supply, and we are unable just to make some more at short notice should we run out. Unfortunately, we need the ability to visit the European basket of available produce in order to meet demand.